Making a Difference
The following articles show various impacts and outcomes our work has achieved over recent years.
The Rejoice care unit travels to homes and communities to serve the medical and emotional care needs of poor people suffering from HIV/Aids infection. The programme provides free, ongoing care to communities which lack adequate medical services. Fully operational since January 1998, Rejoice today serves a population of very poor, sick and underprivileged people living in urban slums, impoverished villages and the surrounding hill tribe areas. Map of Chiang Mai Province.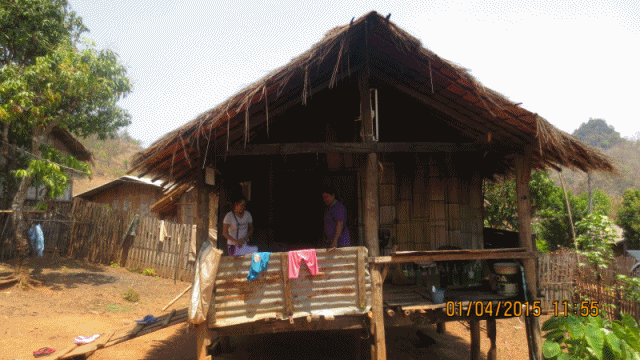 The direct beneficiaries of our projects are the poor, women, children, sex workers, drug users and other marginalised groups such as local hill tribe communities. These are the people most affected by HIV/Aids, suffering from a high rate of transmission and few resources to cope with the many problems associated with the disease. Rejoice serves approximately 1,000 families in the Chiang Mai Province who otherwise would have little or no access to basic health care, little or no education about how to improve their own health standards and very few social and emotional support systems to help cope with the consequences of HIV/Aids.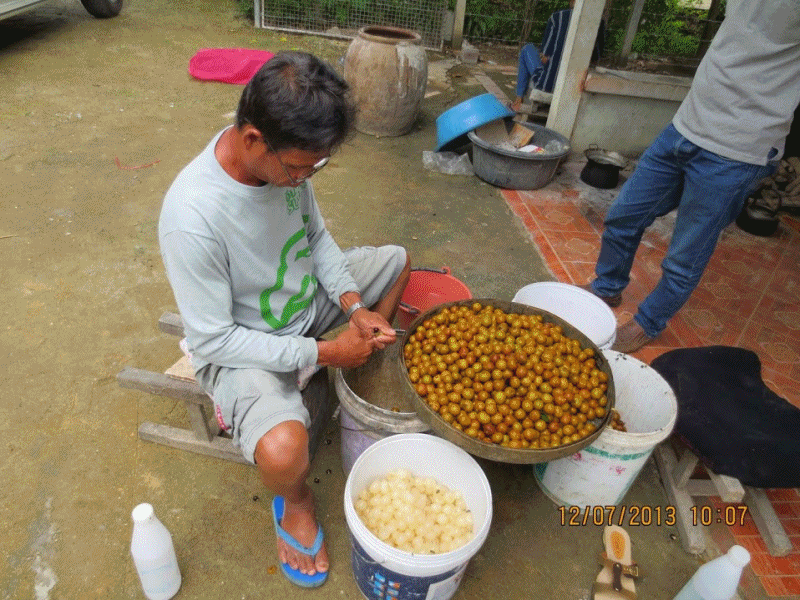 We support people living with HIV to continue to work to provide for their family, and help orphaned children return to school to receive the education they need and deserve in an environment of support, acceptance and encouragement.
By networking with the healthcare volunteers, themselves HIV+ve, we have developed a formidable team of peer to peer counsellors who give advice in the field. They stress the importance of early testing. This in order to achieve the best outcome of people who test positive. By means of following periodic check-ups together with a strict adherence to taking their antiretroviral medicine, they will be able to lead a normal, active life.
---
Formula Milk Programme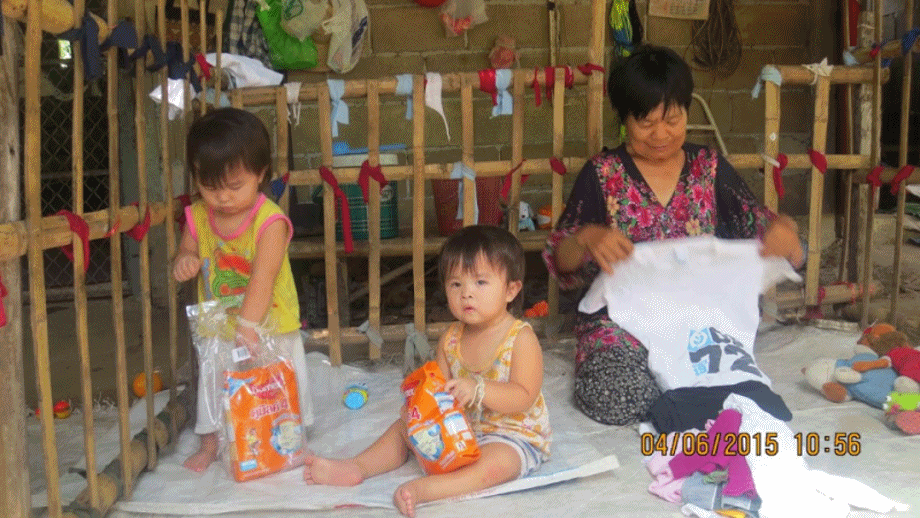 Children born to HIV positive mothers receive formula milk free from the Thai government for the first 6 months. Thereafter Rejoice provides the milk formula until the child is about 6 years old depending on physical development. Currently there are 23 children between the ages of 6 months and 6 years receiving formula.
The formula milk programme introduced by the Thai Government some 12 years ago has been a major success. (All pregnant Thai women were routinely tested for HIV). Thai government made it mandatory for every pregnant Thai woman to be tested for HIV. If the women was found to be HIV+ve she would be given ARV drugs immediately and, after birth, the baby would be given formula milk and not breast fed. However, children born to hill tribe mothers with little or no access to medical facilities, or migrants fleeing conflict in war torn Shan State, are not so lucky.
There are 4 children, two hill tribe (one Akha and one Lahu) and two boys from Shan State in Myanmar who are HIV+ve because they were breast fed by their HIV+ve mother. One of the Shan boys, Pitoon, who is 8 years old is being taken care of by his HIV+ve mother who has recently given birth to a baby girl. It is hoped that by feeding the baby formula milk and getting regular check-ups, she can avoid getting the virus. To date, Rejoice has not come across a child born to a Thai mother, with HIV. This is a direct result of the government initiative.
Scholars
Congratulations Woranut!
Woranut has recently graduated with a Bachelors degree in Civil Engineering from the Science and Technology Department at Chiang Mai Rajabat University.
Woranut's University education has been sponsored by Carol Foo, a member of 'Friends of Rejoice Singapore (FRS)', for the past 3 years via The Rejoice Scholarship Programme.
Woranut's father died as a result of an HIV related illness. Woranut's mother, Kasemsri, is HIV positive and works in a small group making specialist garments for export. Kasemsri also volunteers her time and helps Rejoice organise 'Education and Prevention Meetings' for the local communities in the Sankampeang area.
The photo shows Woranut with her mother and Gee at the presentation ceremony at Chiang Mai Rajabat University.
Below is a letter of appreciation Woranut wrote to her sponsor.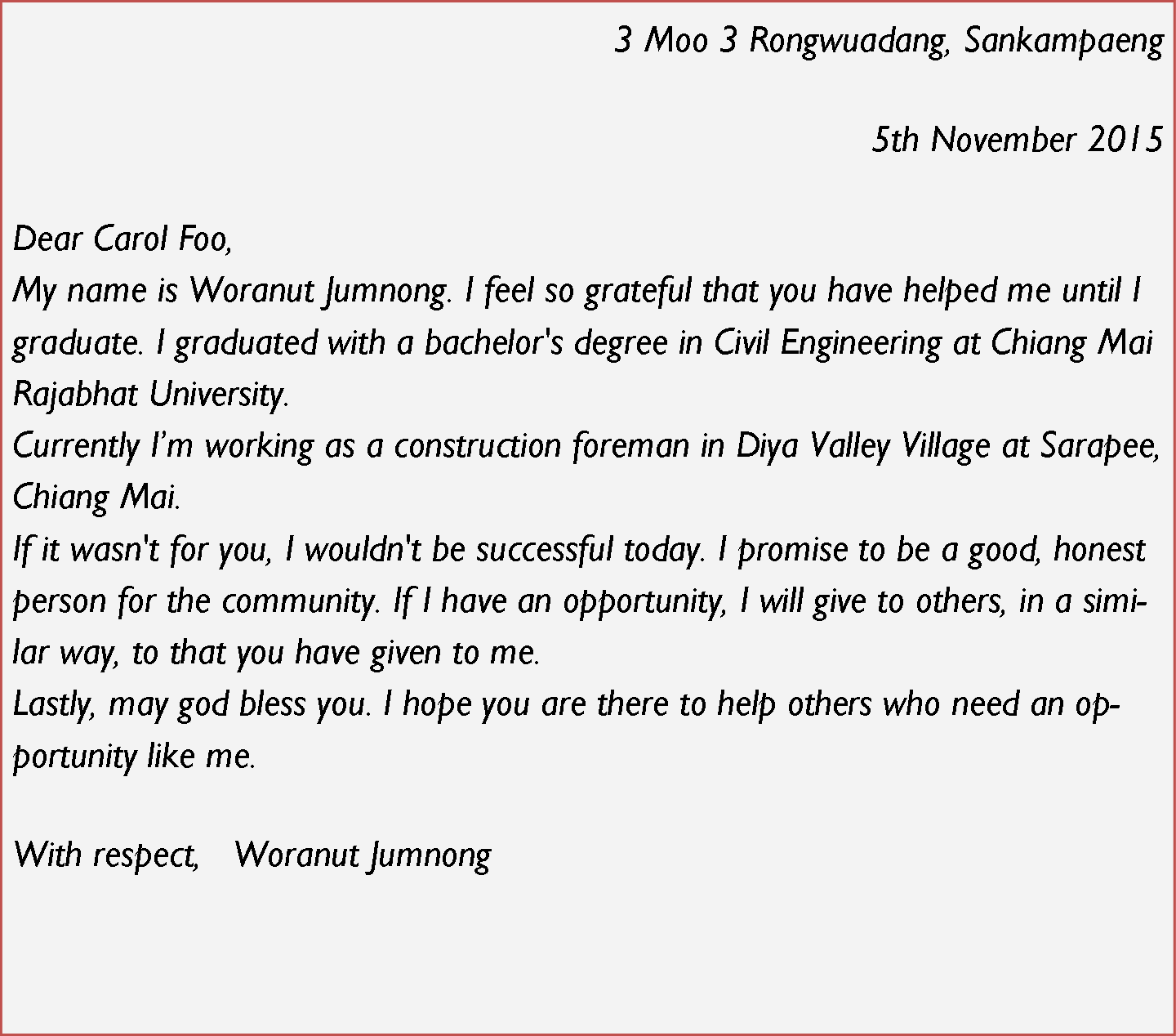 Sponsor a Child's Education
There are many families affected by HIV/Aids. It could be that grandparents, relatives or one parent have taken on the responsibility of raising children affected by HIV. The child may be also be infected or orphaned by the virus. The hardships and difficulties of bringing up children in such circumstances can be quite substantial. Often without a regular income the household can be in danger of falling into abject poverty.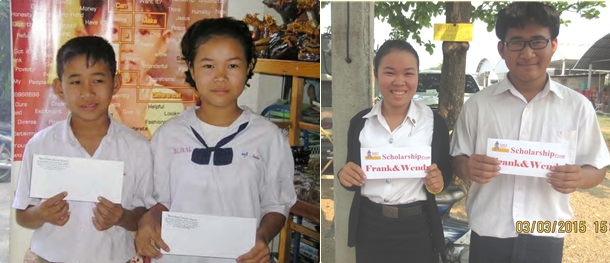 A wonderful way to help such families is to sponsor a child's education for one year. For either, at least 5,000 baht (for pre-school, primary and secondary school students) or, at least 7,000 baht (for high school) or, at least 10,000 baht for (college/university students). The excess goes towards providing formula milk, medicines, provisions and fuel for Rejoices mobile outreach and home care clinics.
Pictured on the left are twins Mayuree and Narin. Their education has been sponsored for the past 6 years by Frank and Wendy from Alkmar in The Netherlands. Mayuree attends Rajabaht University in Chiang Mai City and her twin brother now is working in Sansai.
Over 70 students are studying at school, college or university through the Rejoice Scholarship Scheme. There are many more children who could greatly benefit from your sponsorship. Please link to "Ways to Help" page to see more details about the Scholarship sponsorship scheme.
---
The Rejoice Education Scholarship Project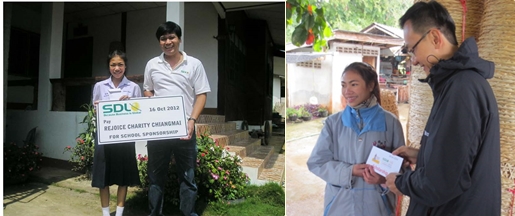 Children living within a family affected by HIV are eligible for a scholarship. The child may be an AIDS orphan, living with one parent, living with grandparents or living with relatives. Rejoice provides scholarships which enables the child to attend school, whilst allowing them to grow up within their own ethnic community rather than them being institutionalized in an orphanage. Currently there are 24 HIV+ children receiving scholarships. Also 8 students are attending University or Technical College and next year a similar number is expected to graduate from school to higher education. Without the Scholarship Programme it is very likely that this would not have been possible. A database of all the children is updated continually and database files are linked to PDF files for each child.
Over the past 5 years SDL have given annual scholarships to 12 children. One scholar, Tidarat, is highlighted in the photos from 2012 with Gee, to January 2016 when Winston Wong, Thailand Country Manager of SDL, visited Rejoice with 5 of his staff from the SDL Bangkok Office. Winston handed out the scholarship money to 8 students who lived in the Chiang Dao area.
Over 70 students are studying at school, college or university through the Rejoice Scholarship Scheme. There are many more children who could greatly benefit from your sponsorship. Please link to "Ways to Help" page to see more details about the Scholarship sponsorship scheme.
Rejoice keeps a PDF file, with text and pictures, for each student and an XLS database of all the students. Below is an example of a translation of a "Thank you" letter from a student. This is included, together with the original letter in Thai, in the PDF file

Education and Prevention
Education and Prevention Meetings sponsored by Rejoice are held together with hospital healthcare volunteers at various venues. The table below shows the location of the various meetings held.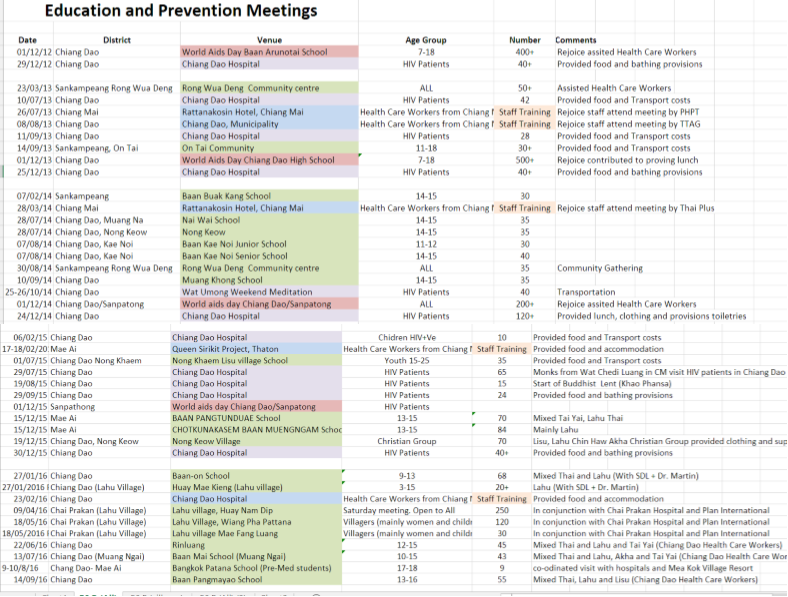 World Aids Day, every 1st December of each year a Jamboree style event is held. Usually at a school or community sports field. Attendees are pupils from local schools, healthcare workers from local hospitals, HIV patients and anybody and everybody interested or curious in what is happening in the area. School marching bands, food stalls, information stalls, results of school compensations concerning safe sex and HIV transmission.... Awareness amongst communities helps to reduce stigma of HIV and Aids.

The healthcare workers at Chiang Dao District hospital have formed a support group for everyone living with HIV in Chiang Dao District. The name of the group is กลุ่มสู่ขวัญดอยหลวง‡ (Welcome to Royal Mountain).

Once every two months a self-help group of local HIV/Aids patients get together for an informal meeting and lunch at Chiang Dao Hospital. The object of the meeting is to share their knowledge and experience of living with HIV, health issues, antiretroviral medicine and opportunistic sicknesses they and their family have encountered.

The meetings are especially useful for new HIV patients. They can discuss with the more experienced group members factors such as stigma, side effects of ARV medicine and the importance of a regular daily regime of taking their medicine.

On 6th February 2015 a group meeting was held at Chiang Dao Hospital. The meeting was for children in Chiang Dao district infected with HIV. Currently there are 29 children (age range 2 to 18) receiving antiretroviral therapy (ART) at Chiang Dao hospital, The majority belonging to various hill tribe groups such as Lisu, Lahu, Chin Haw and Tai Yai.
Ten of these children, together with their guardians, attended the meeting. It was interesting to note that the younger children were from these minority groups (non-Thai) who have become infected from their mother at birth.

Thai mothers receive HIV screening when they become pregnant and start antiretroviral therapy (ART) and their babies are not breast fed but receive formula milk instead. This has proved to be most successful in preventing mother-to-child infection.

The meeting focused on the importance of taking their medicine every day at specific times (twice a day). To facilitate this the children drew clocks depicting the times that they must take their medicine and were shown how to use the weekly pill strip and to return any unused medicine on their 2 or 3 monthly check-up at the hospital.

The children each received a gift and lunch before returning to their various villages.

Education and Prevention Meetings sponsored by Rejoice are held together with hospital healthcare volunteers at various venues; to provide sex education to schools and community groups, to help prevent infection, promote safe sex, early diagnosis, disease awareness, side effects of medication and compliance with treatment.

Each year over 600 youth and HIV patients attended the meetings. In future, at the end of each session a simple multiple choice quiz will be given to the children to test their comprehension and as feedback to Rejoice thus allowing future sessions to be modified and improved. The quizzes have been taken from AVERT, a HIV/Aids information and support charity based in the UK.

The questions and answers from the quizzes have been translated into Thai language and can be presented in a printable file.



Children of Concern
Dao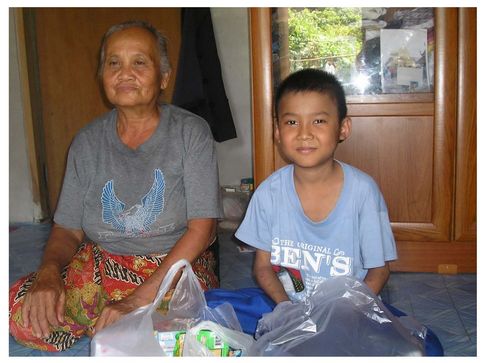 Little Boy Lost? Dao was born in Shan State, Myanmar in 2003. The family moved to Thailand a few years later to escape the hardship of living in a civil war zone in Myanmar. They moved to a small village near Chiang Dao where Dao's grandmother and other relatives lived. Dao's father worked in the fields and orchards nearby.
The family returned to Myanmar and Dao's mum and dad became very ill and eventually died. Dao, by this time about 7 years old, was brought back to the village near Chiang Dao to live with his grandmother again.
When Dao became ill and developed sores on his body, his grandmother took him to see a doctor who referred him to Chiang Dao hospital. A blood test revealed that Dao was HIV positive and that the virus must have been transmitted via his mother at birth or by breast feeding.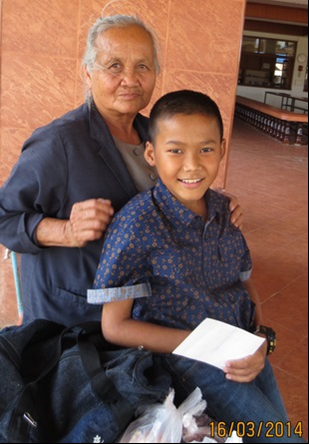 By this time Dao was settled in the local school, albeit at a lower grade due to his lack of Thai language, but there were also other Shan migrant children at the school which made integration easier. Dao's grandmother however became extremely stressed at Dao having HIV and she was afraid to dress his sores. She knew that HIV leads to Aids and then you died - she knew of many people who had died because of Aids.
Dao's grandmother contacted the HIV health care workers at Chiang Dao hospital and told them she couldn't care for Dao and could he not go to a children's home. Persuasion and explanations about HIV were of no avail.
Together with the health care workers, Rejoice visited a Shan orphanage run by monks at a temple in Arunotai on the Myanmar border. The orphanage was well known and well run, the children attended the local school in Arunotai and also received extra Shan language lessons after school. The Abbot of the temple, however, was concerned about the HIV virus and the welfare of the other children and declined to admit Dao into the orphanage.
Dao was eventually sent to "The Home for Boys" a Government run home in Chiang Mai. The Boys Home were concerned about Dao's special medical needs and contacted an Orphanage near Chiang Mai which specialised in taking care of children with HIV, Agape Home where Dao is living today.
Approximately 8 months after being admitted to the orphanage, Dao's grandmother contacted the Health Care workers at Chiang Dao hospital enquiring about Dao and could she visit him. The Healthcare workers contacted Rejoice to ask if we could assist.
One Sunday in March Gee met Dao's Grandmother at Chiang Mai bus station and took her to visit Dao.
Dao was very happy to see his grandmother and Gee. He looked very well and healthy and said he was happy to be at Agape Home. Dao is taken to a local hospital for regular check-ups. Dao is certainly being well taken care of at Agape Home. He has had a very difficult life up until now, let's hope that he will have a better and happier future.
---
Pitoon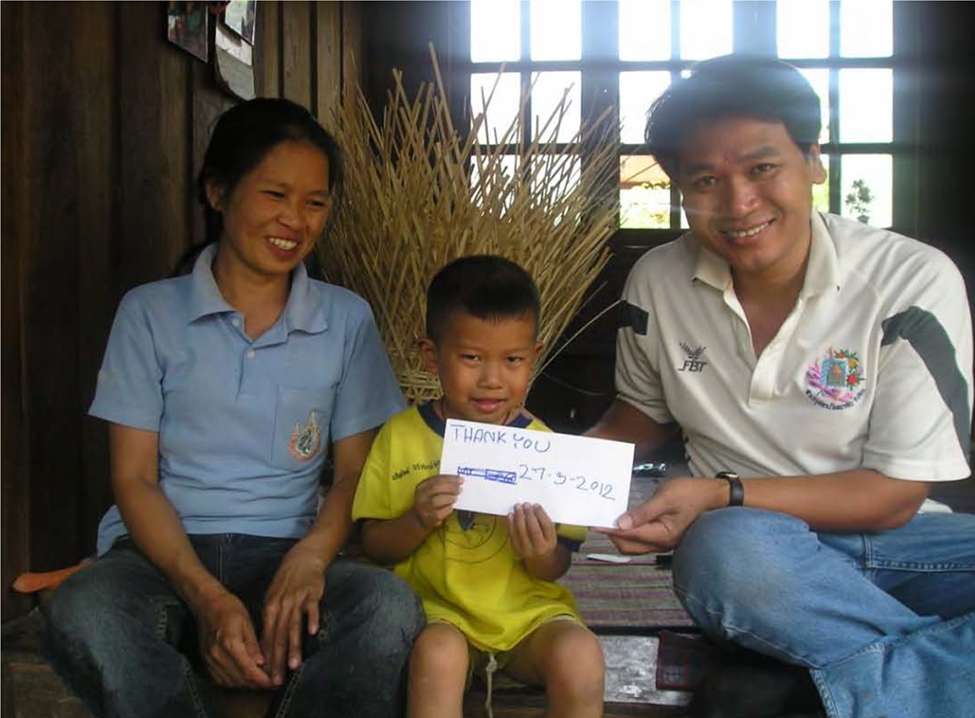 Our recent concern is for a 4½ year old Shan boy who is HIV+. He stays with his HIV+ mother and grandmother. They are stateless with no papers. They have fled fighting in Shan state. The good news is that, 'under the radar', they are receiving ARV therapy at the hospital in Chiang Dao. Also, the little boy has been admitted in the local day care centre – he also has a sponsor from Rejoice.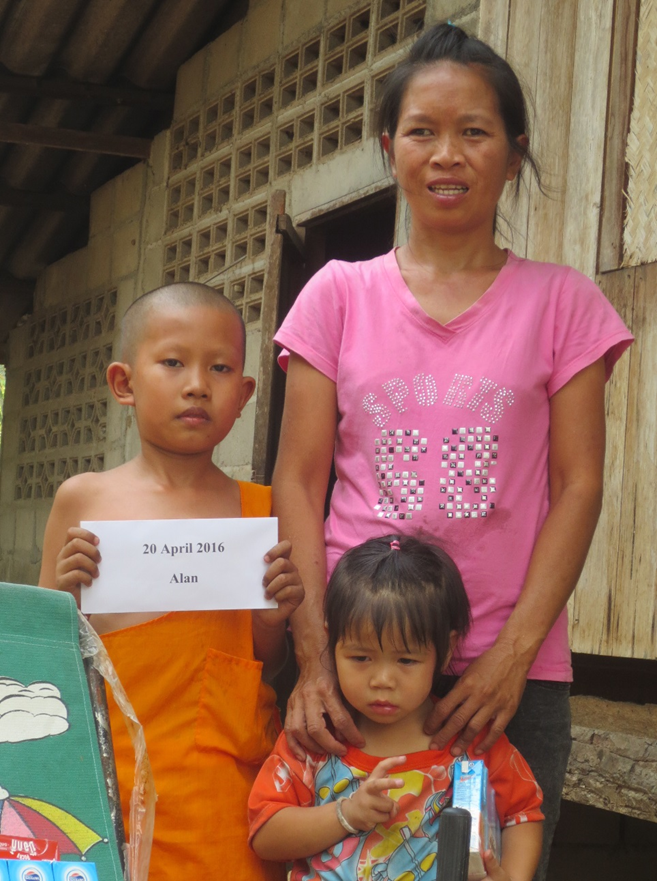 Now (2016), Pitoon is nine years old, his mother is 'legal' having received a work permit and now is working as a house maid. He is happy at school and keeps record of his medication (and his mothers) and the times he has to take it. The photo above shows Pitoon receiving his annual scholarship. Also in the photo is his mum and Pitoon's little sister, Lek, who is HIV-ve.
---
Napar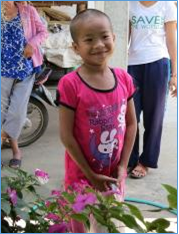 The photo above shows Napar when she was 7½ years old. She is HIV+ve. Her mother died a few years ago. She lives with her father (also HIV+ve) in a village between Chiang Dao and Fang. Her aunt and uncle live close by. She recently has had an infection of head lice and her hair has been shaved; Gee has provided anti-lice shampoo for use in future. She appears to have settled well at school and seems to be much happier than on the previous visits. Napar receives an annual scholarship donated by Wight Wong from Singapore.
Napar is now 11½ years old and last year wrote this thank you note (translated from Thai) for Mr. Wong;
22nd April 2015
Dear Sponsor,
Thank you very much for the scholarship you have given to me.
My family is very poor. My mother died a long time ago and my father is disabled and he cannot work like able people.
I hope you will be able to give me the scholarship in the future.
I would like to continue studying to the highest level so that I can get a good job. Next term I will be in Grade 5.
Thank you very much,
Best wishes,
Napar Un Muang (nickname Nong Nut)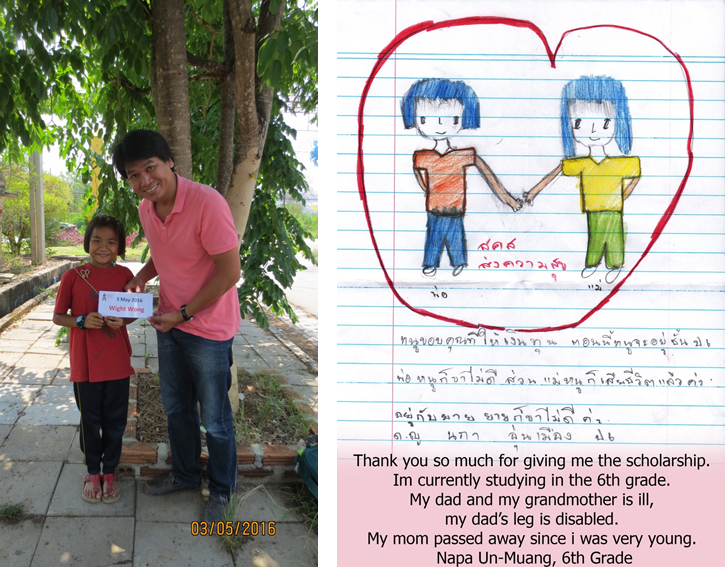 The photo above shows Gee presenting Napar, who is now 12 years old, and Napar's Thank You note to Wight Wong from Singapore.
---
Wattana
He is HIV +ve, both parents have died and now lives with his grandparents and older brother (also HIV+ve). Wattana has a lung infection (TB) and visits hospital monthly for HIV therapy and TB medicine. He enjoys watching football on TV but cannot take part in sport because of his illness. He attends school and appears quite happy in spite of his predicament.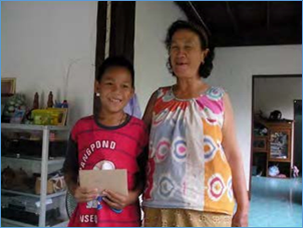 ---
Nattaphun
Nattaphun Worapian or Seegame passed away, on Sunday 9th. October 2016, at the young age of 21 from a lung infection. Nattaphun was infected with HIV at birth and his growth was severely stunted and he had recently stopped taking his antiviral on a regular basis . A possible reason why Nattaphun stopped taking his drugs could be because he might be bored of doing the same thing every day since he was little. As he grew into a teenager, going out with friends, having a god time, he may have forgotten to take his pills or not felt the need to take them, thus forming a bad habit.

If the patient does not adhere to taking the antiviral drugs, this will result in drug resistance, therefor making the drug less effective. This is the primary cause for deaths in teenagers and young adults since they don't have the proper knowledge on preventing and treating the disease. If there are no symptoms, they wouldn't take the drugs. Taking the drug once can only be effective for 12 hours, so for the drugs to be effective they must be taken routinely on a daily basis.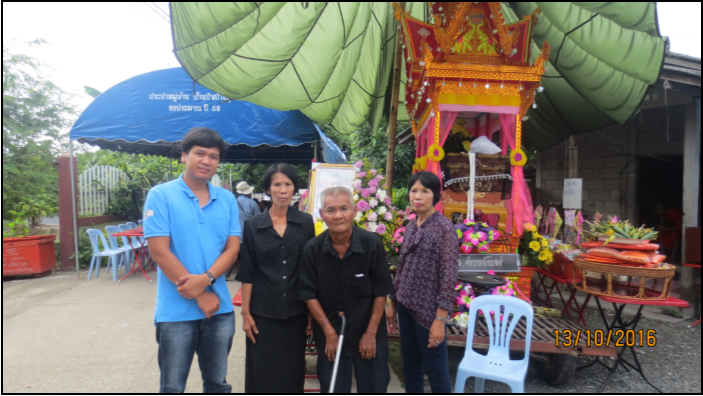 Nattaphun was a former Rejoice Scholar sponsored by SDL. The picture below was taken 5 years ago when Nattaphun was sixteen years old.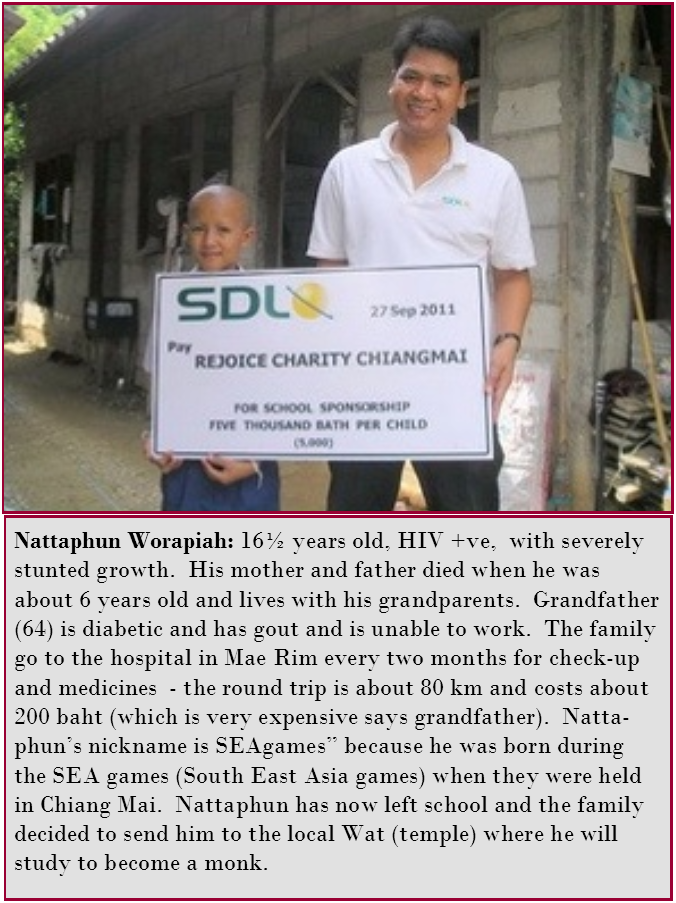 ---
Somjit
Somjit is now 15 years old and is very ill and is suffering with asthma. He is in hospital in Mae Ai being kept under observation.
Instead of a thank you note Somjit drew a picture of the late King Rama IX and gave it to Rejoice.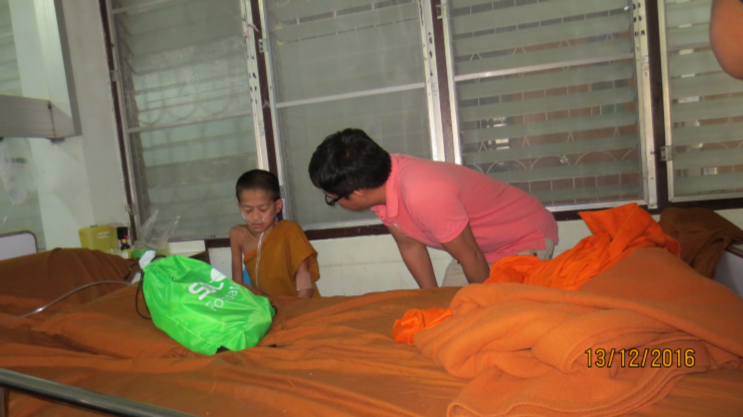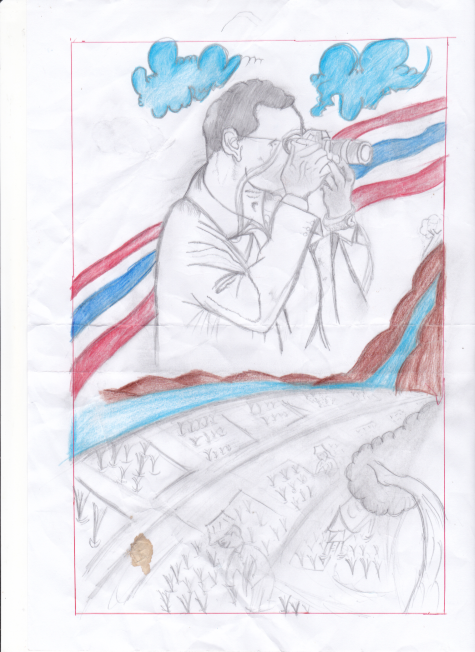 On Tuesday, August 29, 2017 Rejoice staff together with Daeng and Loy, volunteer HIV health care workers from Mae Ai hospital, attended the funeral of novice monk Somjit.
The abbot, Somchit Boonk, from Wat Mokcham temple lead students in a procession followed by the coffin containing the body of fellow student, Somjit Toomkam. Novice Somjit died of lung disease, pneumocystis carinii pneumonia. (Pneumocystis pneumonia is not commonly found in the lungs of healthy people, but, being a source of opportunistic infection, it can cause a lung infection in people with a weak immune system, Wikipedia).
---